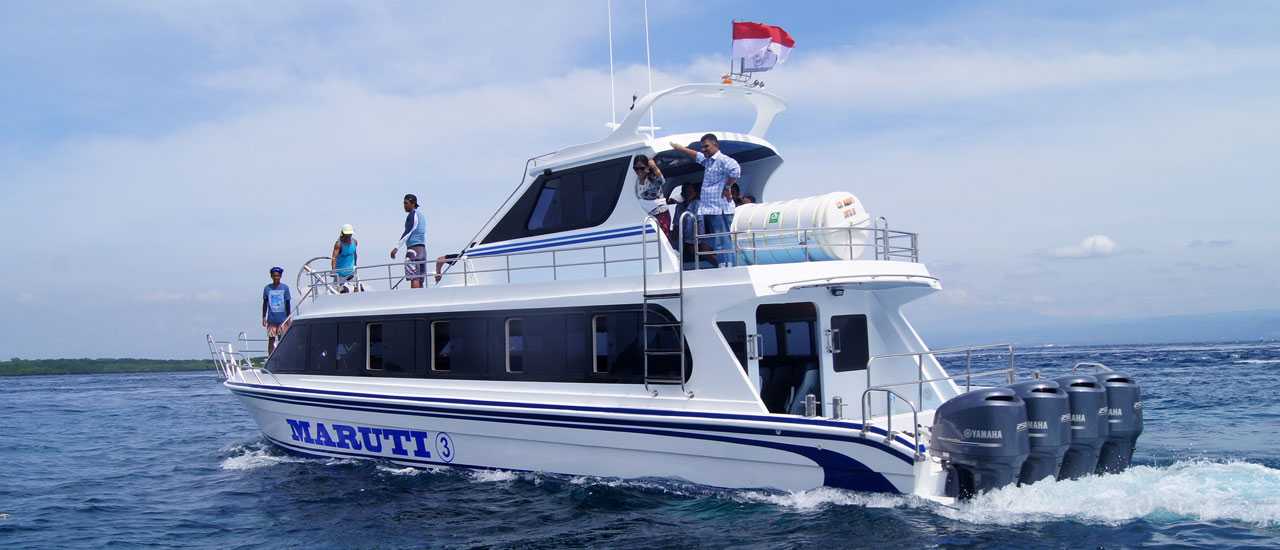 Maruti Fast Boat
Maruti Express offers daily fast boat transport services from Sanur to Nusa Penida for only approximately 30 minutes. Their boat is well-equipped with exceptional levels of comfort and security. Maruti Express ensures a friendly and accommodating crew, including a captain, boat crew, and staff, who are committed to providing the utmost experience.
Maruti Fast Boat Facility
The Fastboat can accommodate up to 77 passengers. The boat is propelled by 5 X 250 HP Honda engines, which enables it to reach a speed of up to 30 knots. For the safety of its passengers, the boat is equipped with 80 life jackets, 3x 25 passenger Life Raft, 2 set Flare, EFIRD, Fire Extinguisher, Fire Pump, Marine Radio Communication, First Aid, and 2 Unit Life Ring.

Additionally, the boat is also equipped with navigation equipment, including GPS, a Map plotter, Radar 18 miles, and Sonar Depth Sounder. There are also onboard facilities that you can enjoy such as aircraft seating, and top-deck open seating.
---
Maruti Fast Boat Schedules
---
Maruti Fast Boat Hotel Shuttle Service
There is no shuttle service available.